As the chart illustrates, according to inSpectrum, 4Gb DDR3 DRAM spot prices increased by 5% MoM in June, with June ending prices ~15% higher than May ending prices. 4Gb DDR4 DRAM spot prices remained virtually unchanged MoM in June on average, but June ending prices were ~8% higher than May ending prices. Overall MayQ DDR3 prices declined by 12% QoQ, while DDR4 prices declined by 23%. As I have discussed previously here, these spot price changes pertain primarily to PC DRAM, which trades like a commodity on the spot market.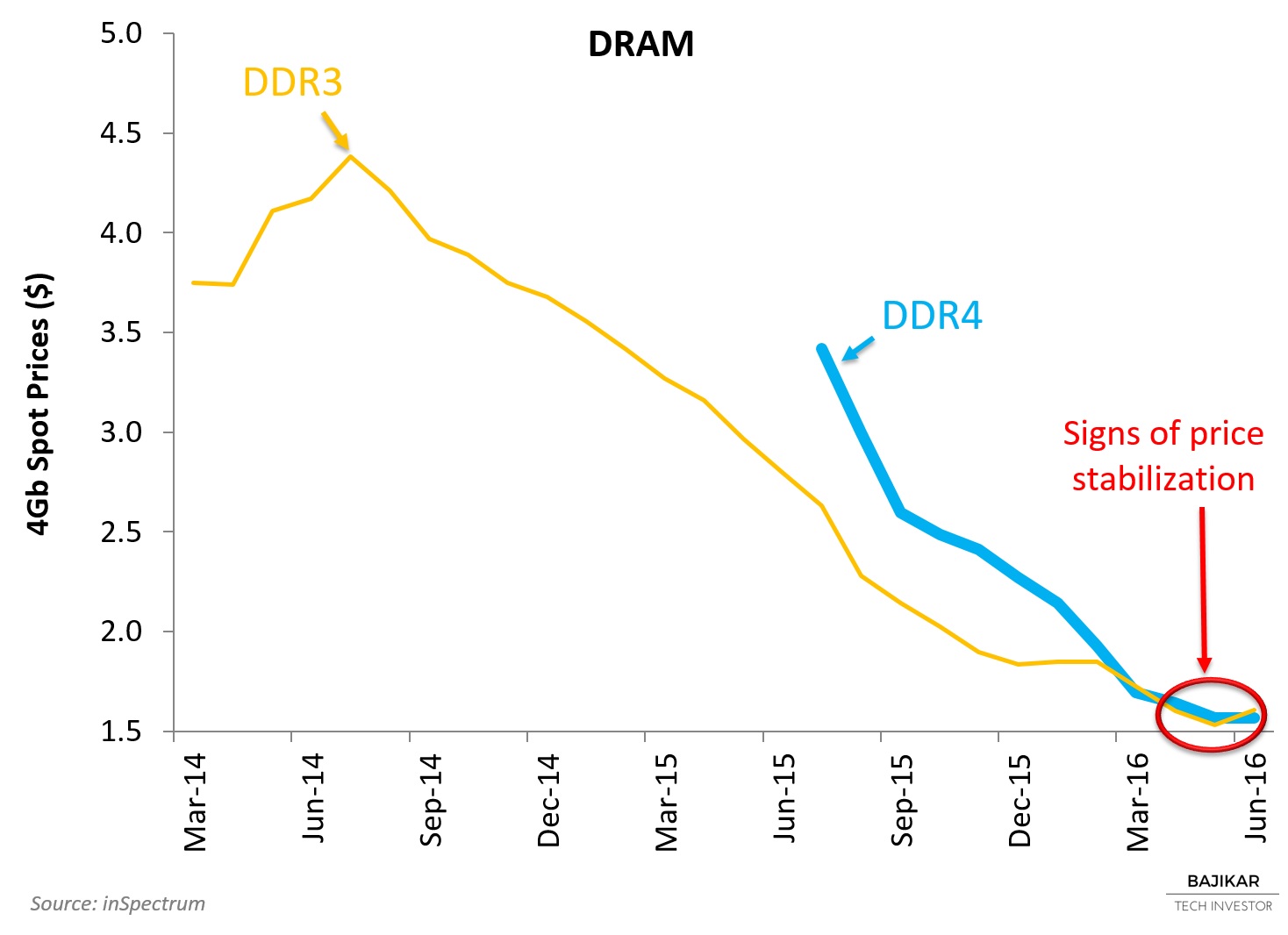 Micron's DRAM gross margin performance (~2% decline QoQ) in MayQ confirms it was able to partially counter 11% QoQ price declines with 9% cost reductions. This serves as potential evidence that Micron's 20nm DRAM is "working". 9% cost reductions based on 22% bit growth isn't exactly impressive (ideally I would expect cost reductions to be closer to bit growth), but understandable given that full effect of 20nm cost benefits may not be observed until all DRAM products, particularly mobile, have transitioned to 20nm – management commentary suggests this might take another quarter or two.
Accordingly, my two takeaways from Micron's FQ3 earnings call would be:
1. 20nm DRAM is real, working, and driving cost reductions (after a long wait), &
2. Even though DRAM spot prices are showing early signs of stabilization/uptick, Micron isn't ready to trust those prices yet, and has guided FQ4 more conservatively. Perhaps after hearing public commentary from peers Samsung Electronics and SK hynix on their upcoming July earnings calls, and observing a few more weeks of spot price action, we will have a better framework to interpret Micron's deliberately conservative guidance.
Meanwhile, as I wrote here, inflection in DRAM spot prices was enough to excite at least a couple of sellside shops to upgrade their view of the stock, even if they didn't necessarily believe in the underlying industry thesis which from my perspective has remained unchanged. The largely tactical upgrades seem to have introduced additional volatility in an already volatile stock – just the kind of volatility that patient value investors could potentially take advantage of.


THIS ARTICLE IS NOT AN EQUITY RESEARCH REPORT.
Disclosure: At the time of this writing, the acteve Model Portfolio held long positions in MU stock, but did not hold any positions in Samsung Electronics or SK hynix.
Additional Disclosures and Disclaimer
Source: DRAM and NAND Spot Price data provided by inSpectrum.
Stock market data provided by Sentieo.